The Thaumatrope is a Victorian toy constructed from a simple disk or card featuring a different picture on each side and attached to two pieces of string. When the strings are twirled rapidly the card rotates on its axis and the two images appear to combine.
Invented by John Ayrton Paris (1785-1856), an English physician, in 1825, the Thaumatrope was the first instrument to exploit the persistence of images on the retina.
The zoetrope, invented in 1834 by William George Horner, was an early form of motion picture projector that consisted of a drum containing a set of still images, that was turned in a circular fashion in order to create the illusion of motion. Horner originally called it the Daedatelum, but Pierre Desvignes, a French inventor, renamed his version of it the zoetrope (from Greek word root zoo for animal life and trope for "things that turn.")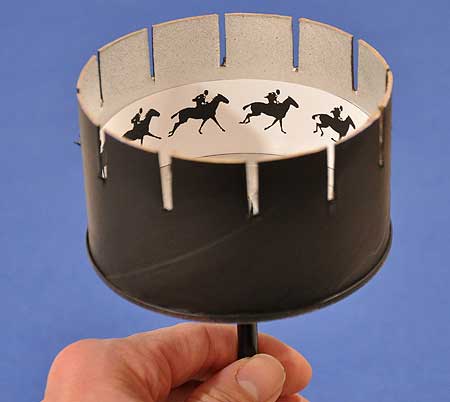 Invented by the Belgian Joseph Plateau in 1832, the phenakistoscope is a spinning cardboard disk that created the illusion of movement when viewed in a mirror.